PRESS RELEASE
Release Date Tuesday, August 20, 2019
Phase Technologies Donates Cutting Edge Technology to
South Dakota School of Mines & Technology
Critical steps in developing reliable, high-quality power for renewable energy.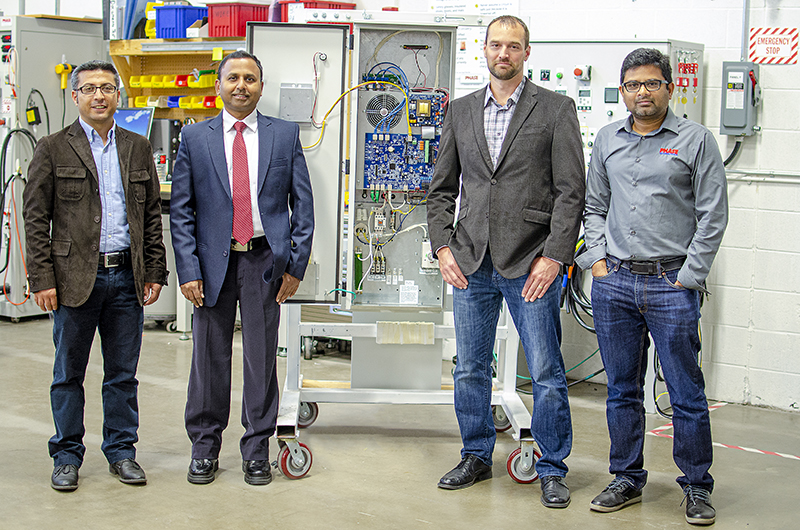 Left to right: Dr. Malek Ramezani, Dr. Magesh Rajan, Nick Kingsbury, Dr. Peda Medagam


RAPID CITY, SD (August 20, 2019) — Phase Technologies donates $8,300 worth of power electronics technology to the electrical engineering department at South Dakota School of Mines & Technology (SDSMT). For the past several months, the Phase Technologies' engineering team, led by Chief Technology Officer,  Dr. Peda Medagam has been collaborating with Dr. Magesh Rajan and Dr. Malek Ramezani, professors of electrical engineering at SDSMT. Together they have been developing a custom power electronics system to be utilized for research and hands-on student learning.


Dr. Ramezani says, "The equipment donated by Phase Technologies will help the Applied Power Electronics and Energy Conversion (APEEC) lab in the EE department develop grid compatible inverters and facilitate the integration of distributed and renewable energy resources into the power grid. The equipment will be also utilized to develop and implement different synchronization techniques under adverse grid conditions. These are critical steps toward providing reliable power with high quality in the presence of deep penetration of renewable energy resources into the traditional power grid."


Phase Technologies has deep ties to SDSMT. Many of Medagam's team members received their engineering degrees from the Mines. In fact, twenty years ago, it was SDSMT professor, Dr. Larry Meiners, who invented the original phase conversion technology that launched Phase Technologies into business. Meiners created the world's only solid-state (digital) phase converter. Since its inception, the company has been continuously in a state of innovation. The original digital phase converter was redesigned into the current market leader, the Phase Perfect® Digital Phase Converter.


After perfecting phase conversion, Phase Technologies shifted its focus to innovating Variable Frequency Drives (VFDs). It is this latest technology that was donated to SDSMT.


 "By collaborating with the electrical engineering team at SDSMT, we are able to develop and test new ideas and technology much quicker that have real-world impact, not just theoretical. We are happy to donate this state-of-the-art equipment to not only help develop new algorithms and products but to educate the students who may become future employees. We look forward to supporting Dr. Rajan and Dr. Ramezani and SDSMT in the future with additional equipment and research funding as well as continue to innovate our industry," says Dr. Peda Medagam.


Phase Technologies CEO, Nicholas Kingsbury, also an electrical engineering graduate of SDSMT, adds, "It gives me great pleasure to see our company make such significant contributions. The power electronics industry is expanding at levels we never could have predicted 20 years ago when our company was started. Collaborations such as this are vital to the prosperity of our company and will benefit many generations of students to come!"


The need for phase conversion and VFD solutions in consumer and industrial applications is not new. However, the way Phase Technologies has innovated specific industry problems is what is getting them noticed. Phase Technologies manufactures the world's only phase converting, low harmonic, VFD that is phase converting, IEEE compliant (the international standard for allowable harmonic levels on utility mains), and regenerative; all in one system. This technology has made a huge impact in the irrigation, groundwater, wastewater and well drilling markets. Not to mention oil & gas and HVAC (heating, ventilation & air conditioning) as well.
The Phase Perfect® Digital Phase Converter stands on its own in many industries including CNC machining, HVAC, elevators and any industrial equipment that requires three-phase power from single-phase utility service. Other examples include industrial refrigeration, brewery/winery equipment, industrial ag equipment and much more. The patented technology is unique in that it doesn't require a motor like the alternative, a rotary phase converter. The Phase Perfect® has no moving parts (truly digital), it consumes much less power to operate and protects the electronics on sensitive/expensive equipment. Many users have called it "the magic box", because "it just works".


 Dr. Rajan concludes, "We greatly appreciate the partnership and collaboration between Phase Technologies and the electrical engineering department at SDSMT. This significant new-equipment donation will enable our faculty to perform research & development on cutting-edge technology leading to innovation and economic development for the Black Hills region. It will also provide opportunities for our students to gain real hands-on learning and skills that are needed for the growing industry. We look forward to continued collaboration with Phase Technologies for research, innovation, and education."
###
About Phase Technologies  
Phase Technologies is a power electronics designer and manufacturer located in Rapid City, S.D. Founded in 1999, Phase Technologies offers the Phase Perfect® Digital Phase Converter and a full line of active-front-end, phase converting, low-harmonic, regenerative Variable Frequency Drives (VFDs). Digital phase converters are available in 7.5-100HP and VFDS are available in 2–500 HP and all products are "Made in the USA". Follow us online: phasetechnologies.com , Facebook, Instagram, LinkedIn, and Twitter

2019 - Celebrating 20 years in business

Contact: Lisa Johnson, 605-343-7934, This email address is being protected from spambots. You need JavaScript enabled to view it.
About SD Mines  
Founded in 1885, the South Dakota School of Mines & Technology is a science and engineering research university located in Rapid City, S.D., offering bachelors, master's and doctoral degrees. The university enrolls 2,654 students with an average class size of 24. The SD School of Mines placement rate for graduates is 97 percent, with an average starting salary of more than $63,350. Find us online at sdsmt.edu and on  Facebook, Twitter, LinkedIn, Instagram and Snapchat. 
Contact: Mike Ray, 605-394-6082, This email address is being protected from spambots. You need JavaScript enabled to view it.